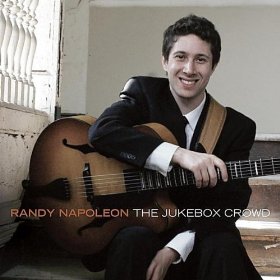 You can now purchase my latest album, "The Jukebox Crowd" either digitally from Amazon or iTunes, or to order a physical disc, click here to purchase one directly from me.
Here's an excerpt from a review at TalkTunesWorld.com:
The album features Napoleon leading a three-horn sextet performing originals as well as arrangements of "Fools Rush In," "God Only Knows," "I'm in the Mood for Love" and other standards. Joining the guitarist are trumpeter Justin Walter, trombonist Josh Brown, tenor saxophonist Ben Jansson, drummer Quincy Davis and organist Duncan McMillan. Napoleon previously released the albums Between Friends (2006) and Enjoy the Moment (2002).
"Working on arrangements is a really exciting process," Napoleon says. "There's a fine line between doing something adventurous and doing something that loses what attracted people to a song in the first place. The trick is to balance familiarity and surprise." The guitarist, who is currently touring with vocalist-pianist Freddy Cole and arranged most of the music on Cole's 2010 Grammy-nominated album Freddy Cole Sings Mr. B as well as Cole's 2011 release Talk To Me, has also recorded with vocalists Michael Bublé, Eric Comstock, and Melissa Morgan, as well as with instrumentalists Josh Brown, Jared Gold, Paul Keller, and the Clayton-Hamilton Jazz Orchestra.
Read the full article here.