LINKS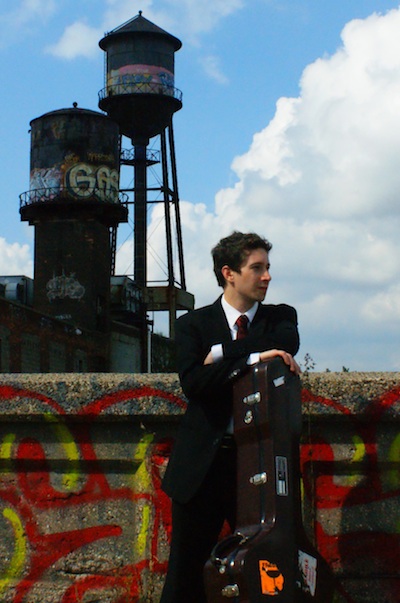 Purchase Randy Napoleon CDs†-†You can purchase The Jukebox Crowd, Between Friends, or Enjoy the Moment for $20 each, which includes shipping and handling, by using a PayPal account at this link, if you are in the United States or Canada. For those out of the Americas, please visit Amazon.com or CD Baby to purchase CDs.
Stadler Guitars†-†Randy Napoleon endorses Stadler Guitars
D'Addario Strings†-†Randy Napoleon endorses D'Addario strings.
Freddy Cole†-†Randy Napoleon joined the Freddy Cole Quartet in the summer of 2007. "He is the most elegant and soulful singer imaginable, and a really nice guy to work for. It is always an honor to share the stage with this legendary performer," says Napoleon.
Eric Comstock†-†"A top cabaret singer. I've enjoyed accompanying him at Lincoln Center and Birdland," says Napoleon, who appears on Comstocks 2010 release, "Bitter/Sweet."
Josh Brown†-†"The swingingest!" Napoleon often plays with Brown and appears on his recent release, The Feeling of Jazz. "If you want to hear some masterful jazz trombone, visit this site!" Napoleon advises. Brown is featured in the RN Sextet.
Melissa Morgan†-†"An old school swang songstress," by Napoleon's description, Morgan was a semi-finalist in the prestigious 2004 Thelonious Monk International Jazz Competition. Watch for her new album, out in 2009.
Jared Gold†-†"One of my favorite players, arrangers, and writers," says Napoleon. "We have been working on our trio together for nine years!"
Public Broadcasting Service: Caught in the Act†-†Randy Napoleon believes public radio and TV are essential. He was proud to featured prominently on Michael Buble's PBS special, Caught in the Act.
Wikipedia biography†- The official Randy Napoleon Wikipedia page.
Allmusic Guide Biography†-†In this biography, Michael G. Nastos comments that Napoleon "displays an even balance of swing, soul, and single-line or chord elements that mark an emerging voice dedicated to tradition and universally accessible jazz values.
Benny Green†-†"One of the world's great musicians. When I was in his band, we used to practice long hours together almost every day," says Napoleon. "Playing with him has been one of the great learning experiences in my life. He opened my ears to how much I didn't know." Green appears on Napoleon's album, Between Friends.
Clayton-Hamilton Jazz Orchestra†-†"This is one of the great big bands of all time," says Napoleon. "I love playing with them."
Quincy Davis†-†Davis has been a member of the Randy Napoleon Trio for over seven years and has performed with other major artists. "Quincy is one of my favorite drummers, composers, arrangers," says Napoleon. "He's an amazing talent! Davis is featured in the RN trio, quartet and sextet.
Michael Bublť†-†"Michael Bublť knows how to connect with an audience," says Napoleon. "He's unselfish musically and inspires me to play for others and not indulge myself.
Justin Walter†-†Justin Walter, a creative and soulful trumpeter, is featured in my sextet.
Frank Basile†-†"My favorite baritone saxophone player and a funny, funny man," says Napoleon.
Sachal Vasandani†-†"He's one of my oldest friends, also one of the world's best singers!" says Napoleon.
Rob Wilkerson†-†"Rob is a great talent, check him out!" says Napoleon
Pete Van Nostrand†-†One of my favorite drummers, we started playing together in Julius Tolentino's band right around the time I moved to New York.
Ehud Asherie†-†Says Napoleon: "Ehud is a classy piano player with a whole lot of music at his fingertips!"
BBC Radio 2: Friday Night is Music Night†-†Randy Napoleon appeared twice on BBC Radio 2 with Michael Buble's band. He was proud to be able to take his own trio to London to appear in a concert, recorded live at the Mermaid Theatre and broadcast on BBC.
Thelonious Monk Institute of Jazz†-†In the summer of 1999, Napoleon was one of 18 students selected to participate in the T-Monk Jazz Colony in Aspen with masters Ray Barretto, Ray Brown, Rosemary Clooney, Herbie Hancock, Geoff Keezer, Joe Lovano, Christian McBride, Lewis Nash, Nicholas Payton, and John Patitucci.
Theater Talk†-†Randy Napoleon's mom explores issues and trends in theater in her column in The Faster Times, Theater Talk.